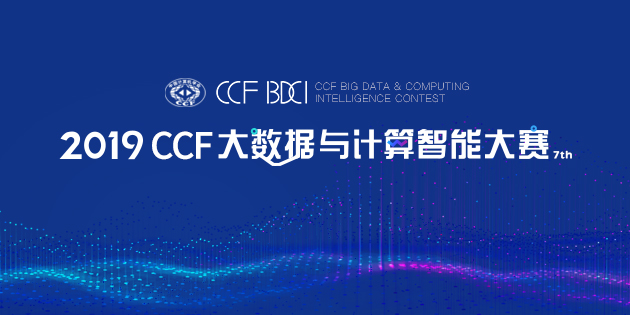 2019 CCF 大数据与计算智能大赛
大赛介绍 About the Contest
CCF大数据与计算智能大赛(CCF Big Data & Computing Intelligence Contest,简称CCF BDCI)是由中国计算机学会大数据专家委员会于2013年创办的国际化智能算法、创新应用和大数据系统大型挑战赛事,是全球大数据与人工智能领域最具影响力的活动之一。2019 CCF大数据与计算智能大赛由教育部高等学校计算机类专业教学指导委员会、国家自然科学基金委员会信息科学部及郑州市人民政府指导,中国计算机学会主办,郑州市郑东新区管理委员会、教育部易班发展中心、CCF大数据专家委员会、大洋洲计算机研究与教育协会、数联众创承办。
CCF Big Data &Computing Intelligence Contest (CCF BDCI) is an international challenge contest of intelligent algorithm, innovative application and big data system launched by Task Force on Big Data of China Computer Federation in 2013. It is one of the most influential events in the field of big data and AI across the world. The 2019 CCF BDCI is directed by the Computer Specialty Teaching Steering Committee of the Ministry of Education, the Department of Information Science of National Natural Science Foundation of China and the Zhengzhou People's Government. It's sponsored by the China Computer Federation and jointly organized by the Zhengdong New District Management Committee of Zhengzhou City, the Yiban Development Center of the Ministry of Education, CCF Task Force on Big Data, Oceania Association for Computer Research and Education and DataFountain.
自2013年创办以来,大赛已成功举办六届,连续获得教育部、工信部、国家基金委等多个国家部委指导,受到北京、青岛、常熟、沈阳、郑州等多地地方政府支持,在梅宏院士、李国杰院士等百余位国内顶尖专家的参与下,共吸引了来自全球25个国家,1500余所高校及科研院所,1800余所企事业单位的60000余人参加。CCF BDCI大赛权威度高,专业性强,创新成果突出,产学研结合紧密,已经成为中国大数据及人工智能赛事旗帜。
Since its inception in 2013, the contest has been successfully held for six sessions, witnessing the continuous guidance from the Ministry of Education, the Ministry of Industry and Information Technology, the National Natural Science Foundation of China and other national ministries and commissions. It also enjoys extensive support from local governments in Beijing, Qingdao, Changshu, Shenyang, and Zhengzhou. The involvement of more than 100 top experts in China, including academician Mei Hong and academician Li Guojie, has attracted 60,000 + people from 1,500+ universities and research institutes and 1,800+ enterprises and institutions across 25 countries to engage in this event. CCF BDCI Contest has become the banner of big data and AI events in China due to its high authority, strong professionalism, outstanding innovation and profound integration of industry, education and research.
2019年,第七届CCF BDCI大赛不忘初心,以"数据驱动,智创未来"为主题,以前沿技术与应用问题为导向,立足国际化、规模化,创造公平竞技环境,打磨赛练同擂模式,致力提升技术应用水平,为社会发现和培养高质量数据人才,推动大数据产学研生态发展。
In 2019, the 7th CCF BDCI Contest will continue to honor its original intention. With "data-driven and future-oriented Intelligence" as the theme, frontier technologies and applications as the guidance and internationalization & scale as the foothold, the 7th CCF BDCI Contest creates a fair competition environment and sharpens the competition and training patterns to enhance the level of technology application, to discover and cultivate high-quality data personnel for the community and to promote the ecological progress of industry-university-research cooperation in big data.
权威国家荣誉、百万现金奖励、赛练结合提升、珍贵数据首发
Authoritative national honor, Million Cash Award, Contest-Training integration, Precious Data First release
赛程赛制 Schedule and Rules
大赛赛程3个月,分为正式赛与训练赛,采用初赛、复赛、决赛"三级赛制",分别为线上入围赛、线上选拔赛、线下决赛嘉年华,具体赛程如下:
The 3-month contest is divided into Formal Contest and Training Contest. It has "three-level contest system" of preliminary, semi-final and final round. These three rounds are on-line qualifiers, on-line tryouts and off-line finals carnival. The specific contest schedule is as follows:
2019/08/17 启动仪式,发布赛题,开放报名 launch ceremony; competition questions release and registration commencement
2019/08/17-2019/10/25 大赛初赛,可持续报名 Preliminary round; Registration remains available during this period
2019/08/23 开放数据下载及作品评测 Data download and solution evaluation are open to the public
2019/10/26-2019/10/29 截止报名,复赛入围资格审核 Closing of registration; qualification review for semi-final
2019/10/30-2019/11/11 大赛复赛,更换数据或调整赛题,可持续参与评测 the semi-final round; change the data or modify the question, Solution evaluation remains available during this period
2019/11/12-2019/11/22 作品提交截止,决赛入围资格审核 Closing of submission, qualification review for final round
2019/11/23-2019/11/24 大赛决赛,答辩评审及颁奖典礼 the finals; debate judging and award presentation ceremony
赛题方向 Direction of the contest questions
本次大赛分为算法、方案、系统、训练"四赛道",分别同步考察参赛者的算法能力、应用创新能力、基础系统优化以及实践应用能力,其中算法赛道由中原银行独家冠名。
The contest involves "four tracks": algorithm, scheme, system and training. They are used to evaluate the contestants' algorithmic ability, applied innovation ability, basic system optimization and practical application ability. The algorithm track is named exclusively by ZHONGYUAN BANK CO., LTD.
算法赛道 ZHONGYUAN BANK - Algorithm:
9道赛题,算法赛采用线上实时评分的方式,要求参赛选手通过算法模型,就解决金融、电商、工业等场景或用户行为的特定指标进行优化,主要解决产业发展过程中遇到的痛点难点。
9 questions included. Algorithm contest adopts real-time online scoring approach in which participants are required to optimize specific metrics in financial, e-commerce, industrial and other scenarios or user behaviors through an Algorithmic Model. This is mainly to solve the difficulties and pain points arising in the process of industrial development.
方案赛道 Scheme:
2道赛题,方案赛采用现场作品演示评分的方式,由企业提供数据和开放式赛题,参赛选手自由发挥创意,提供完整解决方案及作品,主要考察参赛者的方案创新性及实际应用价值。
2 questions included. The scheme contest adopts the on-site solution demonstration and scoring approach in which the contestants deliver their complete creative solution and works based on the data and open-ended questions provided by enterprises. In this contest, the innovation and practical application value of schemes provided by participants are mainly examined.
系统赛道 System:
2道赛题,系统赛采用定期集中评测的方式,要求参赛者通过解决系统方案,提升对指定数据或环境的系统优化能力,参赛者需要发挥自身创造性解决系统难题。
2 questions included. System contest adopts a regularly collective evaluation approach that requires participants to improve their system optimization for a given data or environment by solving a system solution. The contestants need to use their creativity to solve the system problems.
训练赛道 Training:
7道赛题,训练赛采用线上实时评分的方式,要求参赛选手通过基础算法模型进行模型实现及算法调优,辅助高校开展教学实践工作,锻炼学生实践能力,提升算法水平。
7 questions included. The training contest applies the online real-time scoring approach. Contestants need to carry out the model implementation and the algorithm optimization through the basic algorithm model, for the purposes of facilitating teaching practice in colleges and universities, strengthening students' practicing skills and improving the algorithm.
大赛奖励 Awards
参赛选手奖项 Awards for Contestants
(百万奖金 million cash )
· 单赛题奖:单赛题将评选出一二三等共五支团队,各获奖团队队员均可获得奖金、证书、面试绿色通道等奖励。
· CCF综合奖:CCF综合奖将评选出综合特等奖一名、最佳单项奖三名,参赛团队队员均可获得奖金、证书及相关荣誉。
· 参赛特别奖:在线上赛过程中将根据参赛团队每周排名、开源算法及人气获得周冠军奖、开源挑战奖及人气奖等特别奖项。
· Single-Question Award: Five teams in total will be selected for the major-, minus- and third-class prizes of Single-Question Award. Each winning team member can receive bonuses, certificates, and Green Channel for Interview.
· CCF Comprehensive Award: The CCF Comprehensive Award includes one Grand Prize and three best Single Criteria Prizes. All Team members will be awarded bonuses, certificates and relevant honors.
· Special Participation Award: during the online competition, Weekly Championship Prize, Open Source Challenge Prize and Popularity Prize and other special prizes will be given based on the team's weekly ranking, open source algorithm and popularity.
评审专家奖项 Awards for the Evaluation Expert
· 优秀指导老师:CCF综合奖获奖团队指导教师均可获得优秀指导老师奖,并在决赛颁奖典礼颁发奖杯。
· CCF评审专家证书:参与CCF BDCI评审的专家学者均可获得CCF评审专家奖杯。
· 突出贡献奖:参与CCF BDCI题目出具、走进高校的专家学者均可获得CCF突出贡献奖奖杯。
· Meritorious Adviser: This award will be given to all advisers of CCF Comprehensive Award winning team. And in the final award ceremony they will be given trophies.
· CCF Accreditation Expert Certificate: Experts and scholars participating in the CCF BDCI accreditation will be awarded the CCF accreditation expert trophy.
· Outstanding Contribution Award: The CCF Outstanding Contribution Award will be awarded to the experts and scholars who participate in the CCF BDCI question-making and visit the university.
合作伙伴奖项 Partner Awards
· 优秀案例:部分出题企业所出具的优质赛题可获得由CCF颁发的优秀案例奖杯。
· 优秀合作伙伴:部分出题企业将获得由CCF颁发的优秀合作伙伴奖杯。
· Excellent Project: The trophy of Excellent Project Award from CCF can be awarded to the enterprises who provide high-quality questions.
· Excellent Partner: Some of the enterprises providing questions will be awarded Excellent Partner Trophy by the CCF.
免费领取计算资源 FREE ACCESS TO COMPUTING RESOURCES
凡年龄大于16岁,毕业时间晚于2019年8月31日的在校学生(DF平台内个人信息中身份为"学生"),且成功报名2019 CCF大数据与计算智能大赛(CCF BDCI)任意一道赛题,每人即送价值125美元的AWS云计算资源。
Students above 16, who graduated later than August 31, 2019(identified as "student" in their personal information on the DF platform) and successfully registered for any of the questions in the 2019 CCF Big Data & Computing Intelligence contest (CCF BDCI), will be given AWS Cloud Computing Resources worth $125 for free.